The Walt Disney Company to Participate in the Goldman Sachs 30th Annual Communacopia Conference
Bob Chapek, Chief Executive Officer, The Walt Disney Company (NYSE: DIS), will participate in a virtual question-and-answer session at the Goldman Sachs 30th Annual Communacopia Conference on Tuesday, September 21, 2021 at approximately 11:05 a.m. PT/ 2:05 p.m. ET.
To watch the webcast, please visit www.disney.com/investors. The webcast presentation will be archived.
View source version on businesswire.com: https://www.businesswire.com/news/home/20210915005035/en/
Business Wire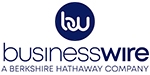 Business Wire, acquired by Berkshire Hathaway in 2006, is the global market leader in commercial news distribution. Thousands of member companies and organizations depend on Business Wire to transmit their full-text press releases, regulatory filings, photos and other multimedia content to journalists, financial professionals, investor services, regulatory authorities and consumers worldwide.