Report of Disposition of Beneficial Ownership of Common Shares of Goldsource Mines Inc.
Vancouver, British Columbia--(Newsfile Corp. - February 11, 2019) - Donald Smith Value Fund, L.P. (the "Fund") reports that it has disposed of deemed beneficial ownership and control of 5,882,253 common shares ("Common Shares") of Goldsource Mines Inc. ("Goldsource") through the expiry on February 8, 2019 of unexercised warrants for the purchase of the same number of Common Shares.
Immediately prior to the expiry of the warrants, the Fund had deemed beneficial ownership of 45,994,506 Common Shares, representing 17.9% of the then deemed outstanding Common Shares. The Fund currently has deemed beneficial ownership of 40,112,253 Common Shares (including 3,410,000 Common Shares underlying share purchase warrants of Goldsource held by the Fund), representing 16.0% of the deemed outstanding Common Shares, a decrease of 3.9% of the Fund's previously reported beneficial shareholding percentage in the Common Shares of 19.9%.
The Fund may acquire additional Common Shares or dispose of Common Shares (through market or private transactions or exercises of share purchase warrants) from time to time further to its investment strategy.
A copy of the related early warning report may be obtained from the SEDAR website (www.sedar.com) or from Ann Cianfrone at Donald Smith Value Fund, L.P. at (212) 284-0990.
DONALD SMITH VALUE FUND, L.P.
"Donald Smith"
Per:
Donald Smith, Managing Member
To view the source version of this press release, please visit https://www.newsfilecorp.com/release/42762
Newsfile Corp.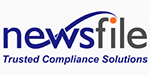 Newsfile Corp. is a press release service for companies of all sizes. With a distribution of over 6,000 media and financial databases, Newsfile delivers press releases to a global audience.