Request an analysis from our artificial intelligence
How do you contact Londinia? What is the difference between free AI credits and Premium AI credits? Here is a short tutorial.
Request a technical analysis from the AI, Londinia


Click on the Londinia avatar which is at the bottom right of the CentralCharts site. A window prompts you to select a financial instrument and a time unit: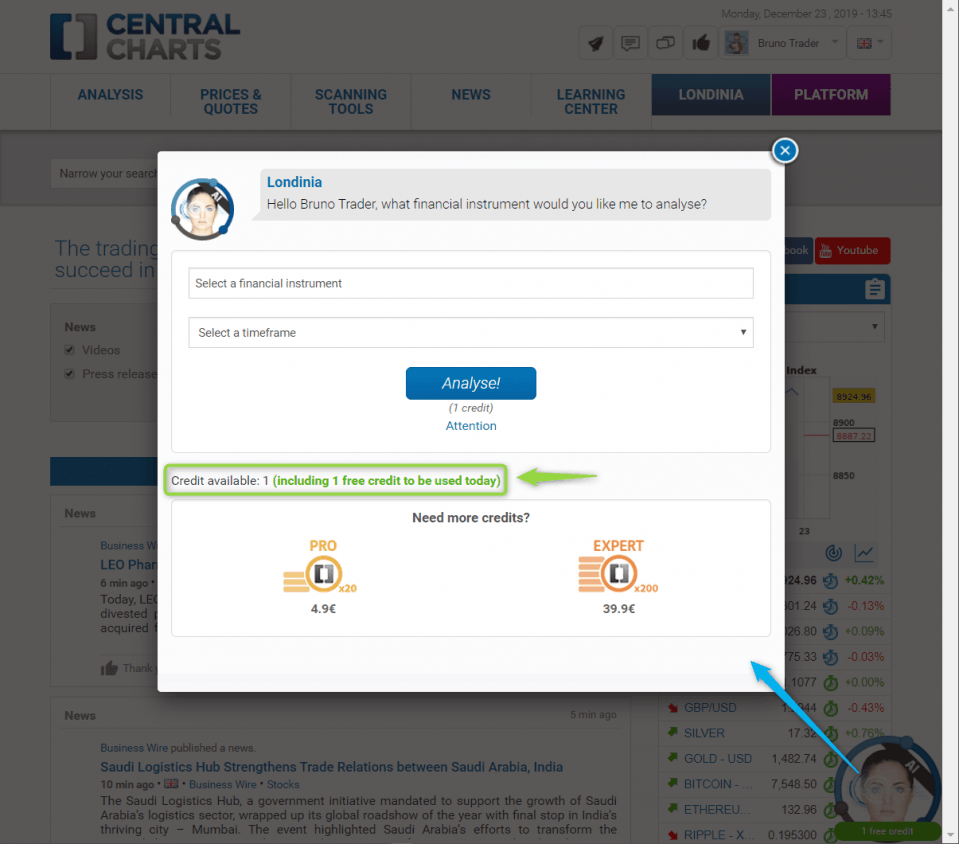 You can also contact the AI Londinia though the "Automatic Analysis" button which is in the right column of each instrument page and this instrument will be directly pre-selected: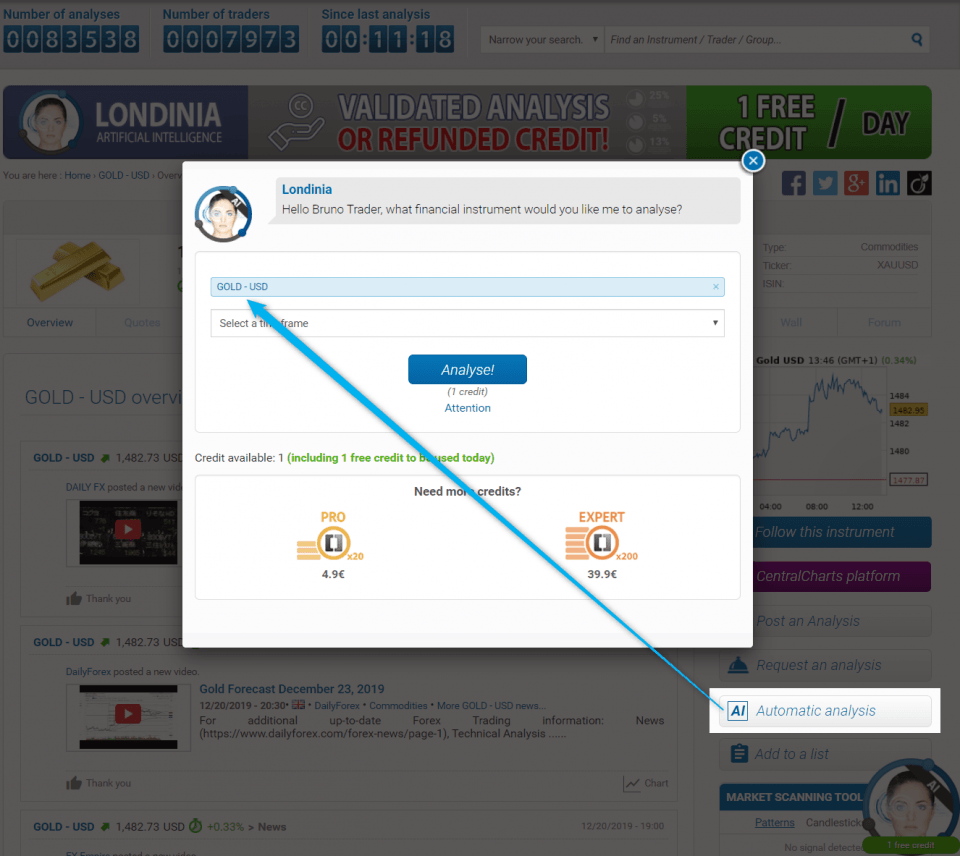 From there, all you have to do is select the time unit to analyse and click on the "Analyse!" button :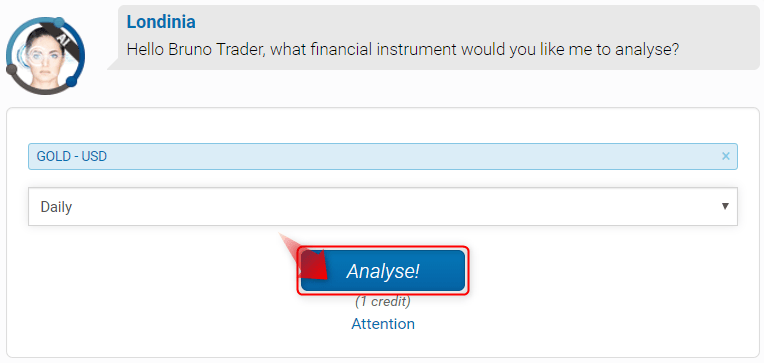 Londinia will launch its analysis module and then redirect you almost immediately to an analysis "PREVIEW":
PREVIEW analyses and PREMIUM analyses


Whether you are a classic member or a Premium member, our artificial intelligence always generates a "PREVIEW" analysis at first. This "PREVIEW" must be registered by Premium members so that they can benefit from retrospective consultation using "REPLAY" technology (loaded onto the chart of all new candlesticks created since the analysis publication date) and the "validated analysis or refunded AI credit" guarantee.

If you are not a Premium Member, a message under the summary of this "PREVIEW" analysis will tell you:

"The analysis was not published. If you wish to keep your analyses, enjoy additional benefits such as "expert opinion", the "validated analysis or a refund" guarantee and take full advantage of Londinia's powers, we invite you to become a Premium member."

]How to track your AI credits and analyses




- Track your use of AI credits:


All your credit purchases, credits used for an AI analysis, credits reimbursed by the "validated analysis or refunded credit" guarantee and your free credits are listed in "My AI credits" accessible by clicking on your user name: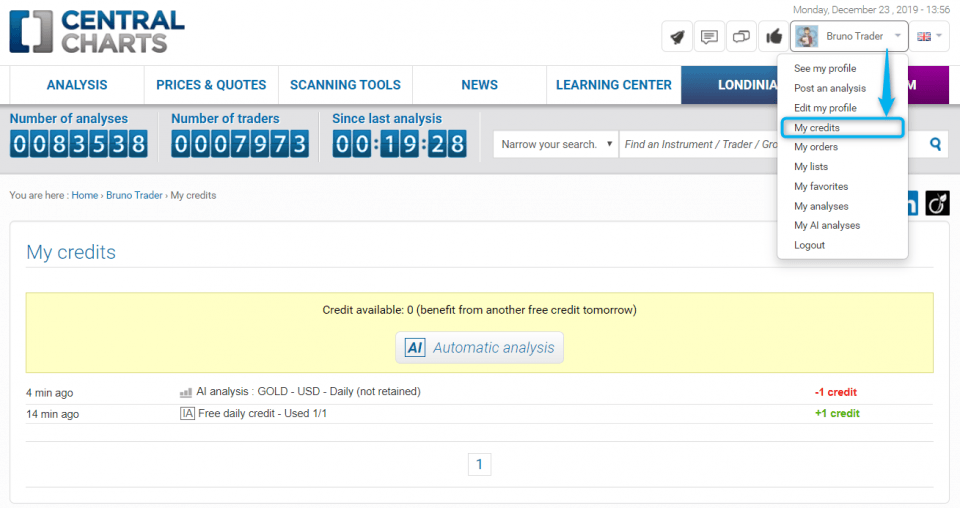 This example shows that I received 5 free AI credits but they were not used to generate automatic technical analyses. These credits have therefore expired. And on my last connection, I can see that I have received my free IA credit of the day and I can see that it has been used for a technical analysis of gold.

NB: From this AI credit tracking page, Premium members can directly click on the analysis links to access them.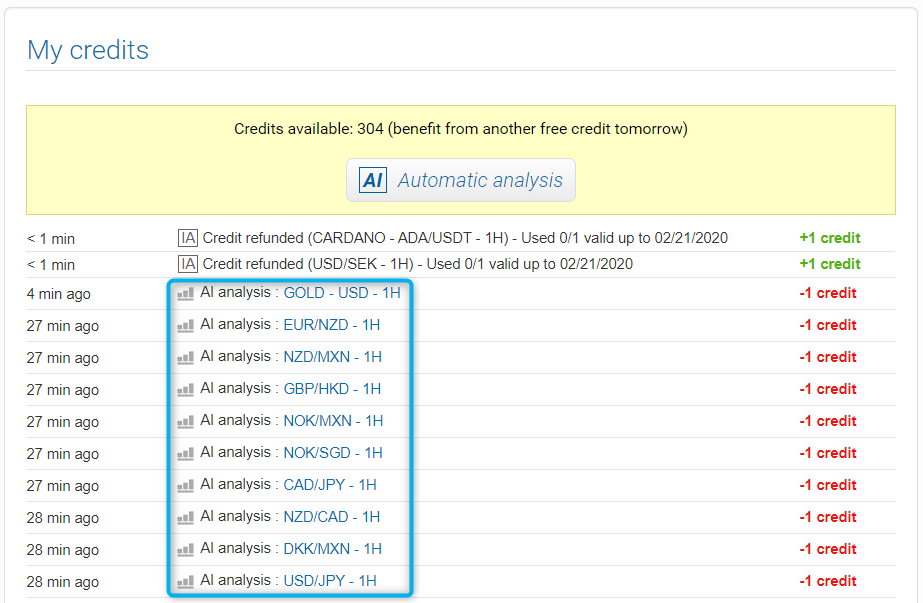 - Track your AI analyses:


Premium members can save and share their AI analyses. To access these analyses, you can click directly on "My AI analyses", accessible by clicking on your user name: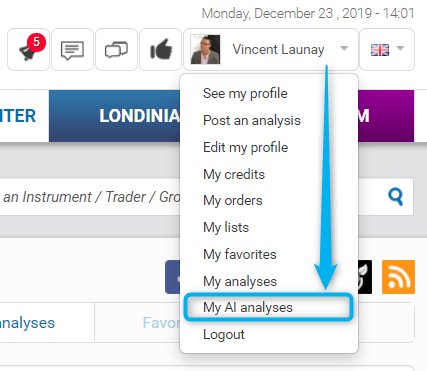 You will then see that you are redirected to the "AI Analyses" tab of your profile page: