NetworkNewsAudio Announces Audio Press Release (APR) on Virtual Crypto Technologies Inc. Bridging the Crypto Gap to Mainstream with NetoBit ATMs
New York, New York--(Newsfile Corp. - August 10, 2018) - NetworkNewsAudio announces the Audio Press Release (APR) titled "ATMs Provide Potential Route for Cryptocurrency into the Mainstream," featuring Virtual Crypto Technologies Inc. (OTCQB: VRCP).
To hear the NetworkNewsAudio version, visit: http://nnw.fm/Vw3Yw
To read the original editorial, visit: http://nnw.fm/puY7b
While many people continue to choose a more traditional method of completing transactions, companies such as Virtual Crypto Technologies (OTCQB: VRCP) are providing access to main street electronic payment systems. Although the majority of consumers in North America use payment cards when shopping, globally, most people stick with cash. In most countries, more than half of all payments are made in notes and coins rather than digits. Even in India, a rising economic power with one of the world's largest populations, more than 90 percent of payments are in cash despite the country's growing embrace of technology.

The past few years have seen huge growth in the popularity and value of cryptocurrencies, including bitcoin. Unlike existing electronic payment systems, cryptocurrencies allow users to make direct payments to one another without banking system intermediaries. They can provide people with greater control over their finances and reduce friction in the global economy. But while cryptocurrencies have garnered plenty of attention in tech circles, they haven't yet made the jump to the mainstream.

Virtual Crypto is trying to change that through its NetoBit ATMs. These ATMs allow users to instantly convert cash into cryptocurrencies and vice versa, always at the best available exchange rates. As more people become aware of cryptocurrencies, these ATMs allow them to easily access the new form of payment for the first time, gradually introducing it to the main street.
About Virtual Crypto Technologies Inc.
Virtual Crypto Technologies Inc., through its wholly owned Israeli subsidiary Virtual Crypto Technologies Ltd., has developed the NetoBitTrader, a proprietary, cryptographic algorithmic technology that it is able to confirm in real-time the purchase or sale of virtually any cryptocurrency. Virtual Crypto's NetoBit products dramatically improve the cryptocurrency trading experience with faster execution and lower costs. Setting a new time-to-transaction standard, trading in seconds rather the industry norm of 20 minutes, allows NetoBit customers to enjoy the best crypto-exchange rate at the point of transaction. The company is marketing its NetoBit Trader software and hardware products for the purchase and sale of cryptocurrencies through ATMs, tablets, PCs and mobile devices. Virtual Crypto Technologies further believes that the ability to immediately confirm cryptocurrency transactions in real-time provides a significant competitive advantage in making the purchase and sale of cryptocurrencies user friendly. For more information, visit the company's website at www.Virtual-Crypto.com
About NetworkNewsAudio
NetworkNewsAudio (NNA) , a NetworkNewsWire (NNW) Solution, allows you to sit back and listen to market updates, CEO interviews and a Company AudioPressRelease (APR). These audio clips provide snapshots of position, opportunity and momentum. NetworkNewsAudio (NNA) can assist your company by cutting through the overload of information in today's market, NNA brings its clients unparalleled visibility, recognition and brand awareness. NetworkNewsWire (NNW) is where news, content and information converge. NetworkNewsWire (NNW) is a comprehensive provider of news aggregation and syndication, enhanced press release services and a full array of social communication solutions. As a multifaceted financial news and distribution company with an extensive team of journalists and writers, NNW has the unparalleled ability to reach a wide audience of investors, consumers, journalists and the general public with an ever-growing distribution network of more than 5,000 key syndication outlets across the nation.
For more information, visit: www.NetworkNewsAudio.com
Please see full terms of use and disclaimers on the NetworkNewsWire website applicable to all content provided by NNW, wherever published or re-published: http://NNW.fm/Disclaimer.
Forward-Looking Statements
This release contains forward-looking statements within the meaning of Section 27A of the Securities Act of 1933, as amended and Section 21E of the Securities Exchange Act of 1934, as amended. All forward-looking statements are inherently uncertain as they are based on current expectations and assumptions concerning future events or future performance of the company. Readers are cautioned not to place undue reliance on these forward-looking statements, which are only predictions and speak only as of the date hereof. In evaluating such statements, prospective investors should review carefully various risks and uncertainties identified in this release and matters set in the company's SEC filings. These risks and uncertainties could cause the company's actual results to differ materially from those indicated in the forward-looking statements.
Corporate Communications Contact:
NetworkNewsWire (NNW)
New York, New York
www.NetworkNewsWire.com
212.418.1217 Office
Editor@NetworkNewsWire.com
Newsfile Corp.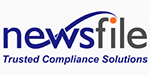 Newsfile Corp. is a press release service for companies of all sizes. With a distribution of over 6,000 media and financial databases, Newsfile delivers press releases to a global audience.