NetworkNewsAudio Announces Audio Press Release (APR) on SinglePoint, Inc. Taking Advantage of Grand-Slam Opportunity in U.S. Betting Market
New York, New York--(Newsfile Corp. - September 14, 2018) - NetworkNewsAudio announces the Audio Press Release (APR) titled "Gambling and Tech Companies Charge into American Sports Betting Market," featuring SinglePoint, Inc. (OTCQB: SING).
To hear the NetworkNewsAudio version, visit: http://nnw.fm/gJV48
To read the full editorial, visit: http://nnw.fm/RaN3D
With more than a third of Americans betting on at least one sports event every year, there are plenty of people looking to make the most of the newly loosened laws, and StakeHaul provides a way to do that. "All in all, our unique features, our ease of use, and the legal momentum behind betting in the U.S. makes our opportunity not just a home run but a grand slam," stated Jeffery Lippert, founder of StakeHaul.

It's not surprising then that tech company SinglePoint has made an investment in StakeHaul.

Originally a full-service mobile technology provider, SinglePoint has evolved into a company with an interest in a wide range of technologies. The organization focuses on companies that have great potential and proven assets currently believed to be undervalued on the market. By investing in such companies, SinglePoint has developed a diverse portfolio of up-and-coming tech companies.
About SinglePoint, Inc.
SinglePoint, Inc. is a technology and investment company with a focus on acquiring companies that will benefit from the injection of growth capital and technology integration. The company portfolio includes mobile payments, ancillary cannabis services and blockchain solutions. Through acquisitions into horizontal markets, SinglePoint is building its portfolio by acquiring an interest in undervalued companies, thereby providing a rich, diversified holding base. Through SingleSeed, the company is providing products and services to the cannabis industry. For more information, visit the company's website at www.SinglePoint.com
About NetworkNewsAudio
NetworkNewsAudio (NNA) , a NetworkNewsWire (NNW) Solution, allows you to sit back and listen to market updates, CEO interviews and a Company AudioPressRelease (APR). These audio clips provide snapshots of position, opportunity and momentum. NetworkNewsAudio (NNA) can assist your company by cutting through the overload of information in today's market, NNA brings its clients unparalleled visibility, recognition and brand awareness. NetworkNewsWire (NNW) is where news, content and information converge. NetworkNewsWire (NNW) is a comprehensive provider of news aggregation and syndication, enhanced press release services and a full array of social communication solutions. As a multifaceted financial news and distribution company with an extensive team of journalists and writers, NNW has the unparalleled ability to reach a wide audience of investors, consumers, journalists and the general public with an ever-growing distribution network of more than 5,000 key syndication outlets across the nation.
For more information, visit: www.NetworkNewsAudio.com
Please see full terms of use and disclaimers on the NetworkNewsWire website applicable to all content provided by NNW, wherever published or re-published: http://NNW.fm/Disclaimer.
Forward-Looking Statements
This release contains forward-looking statements within the meaning of Section 27A of the Securities Act of 1933, as amended and Section 21E of the Securities Exchange Act of 1934, as amended. All forward-looking statements are inherently uncertain as they are based on current expectations and assumptions concerning future events or future performance of the company. Readers are cautioned not to place undue reliance on these forward-looking statements, which are only predictions and speak only as of the date hereof. In evaluating such statements, prospective investors should review carefully various risks and uncertainties identified in this release and matters set in the company's SEC filings. These risks and uncertainties could cause the company's actual results to differ materially from those indicated in the forward-looking statements.
Corporate Communications Contact:
NetworkNewsWire (NNW)
New York, New York
www.NetworkNewsWire.com
212.418.1217 Office
Editor@NetworkNewsWire.com
Newsfile Corp.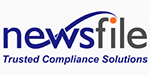 Newsfile Corp. is a press release service for companies of all sizes. With a distribution of over 6,000 media and financial databases, Newsfile delivers press releases to a global audience.