Enpro Declares Regular Quarterly Dividend
EnPro Industries, Inc. (NYSE: NPO) today declared a regular quarterly dividend of $0.27 per share. The dividend is payable June 16, 2021 to shareholders of record as of the close of business on June 2, 2021.
About Enpro
Enpro is a leading industrial technology company using materials science to push boundaries in semiconductor, life sciences, and other technology-enabled sectors. For more information about Enpro, visit the company's website at http://www.enproindustries.com.
View source version on businesswire.com: https://www.businesswire.com/news/home/20210504006252/en/
Business Wire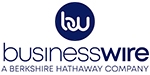 Business Wire, acquired by Berkshire Hathaway in 2006, is the global market leader in commercial news distribution. Thousands of member companies and organizations depend on Business Wire to transmit their full-text press releases, regulatory filings, photos and other multimedia content to journalists, financial professionals, investor services, regulatory authorities and consumers worldwide.