IHS Holding Limited annonce le cours pour son introduction en bourse
IHS Holding Limited ("IHS Towers"), un des plus grands propriétaires, exploitants et promoteurs indépendants d'infrastructures de télécommunications partagées au monde, annonce le cours unitaire (21,00 dollars) de l'introduction en bourse de 18 000 000 d'actions ordinaires émises par IHS Towers. Les souscripteurs de l'offre disposeront également d'une option de 30 jours pour acheter 2 700 000 actions ordinaires supplémentaires auprès d'IHS Towers au cours d'introduction, moins l'escompte de souscription. Les actions ordinaires devraient commencer à être négociées à la Bourse de New York le 14 octobre 2021 sous le mnémo "IHS".
La clôture de l'offre est prévue pour le 18 octobre 2021, sous réserve des conditions de clôtures usuelles.
Goldman Sachs & Co. LLC, J.P. Morgan Securities LLC et Citigroup Global Markets Inc. agissent en qualité de coteneurs de plumes principaux de l'offre. RBC Capital Markets, LLC, Barclays Capital Inc. et Absa Bank Limited agissent en qualité de coteneurs de plume de l'offre. Cowen and Company, LLC, Investec Bank plc, Renaissance Securities (Cyprus) Limited, FirstRand Bank Limited (succursale de Londres), intervenant par le biais de sa division Rand Merchant Bank, Academy Securities, Inc., Loop Capital Markets LLC, Samuel A. Ramirez & Company, Inc., Siebert Williams Shank & Co., LLC et Tigress Financial Partners LLC agissent en qualité de cogestionnaires de l'offre.
L'offre est exclusivement faite par le biais d'un prospectus. Un exemplaire du prospectus définitif relatif à l'offre pourra être obtenu, une fois disponible, auprès de:
Goldman Sachs & Co. LLC, Attention: Prospectus Department, 200 West Street, New York, New York 10282, par téléphone: 1-866-471-2526, ou par email: prospectus-ny@ny.email.gs.com;
J.P. Morgan Securities LLC, c/o Broadridge Financial Solutions, 1155 Long Island Avenue, Edgewood, New York 11717, par téléphone: 1-866-803-9204, ou par email: prospectus-eg_fi@jpmchase.com; ou
Citigroup Global Markets Inc., c/o Broadridge Financial Solutions, 1155 Long Island Avenue, Edgewood, New York 11717, par téléphone: 1-800-831-9146.
Une déclaration d'enregistrement sur formulaire F-1 relative à ces titres a été déposée auprès de la Commission américaine des valeurs mobilières et boursières, et déclarée effective par celle-ci. Le présent communiqué de presse ne constitue pas une offre de vente ni la sollicitation d'une offre d'achat. Aucune vente de titres ne peut être réalisée dans un état ou une juridiction dans lequel une telle offre, sollicitation ou vente serait illégale sans enregistrement ou accréditation préalable en vertu de la législation sur les valeurs mobilières de l'état ou de la juridiction en question.
Le texte du communiqué issu d'une traduction ne doit d'aucune manière être considéré comme officiel. La seule version du communiqué qui fasse foi est celle du communiqué dans sa langue d'origine. La traduction devra toujours être confrontée au texte source, qui fera jurisprudence.
Consultez la version source sur businesswire.com : https://www.businesswire.com/news/home/20211014005783/fr/
Business Wire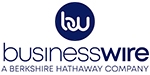 Business Wire, acquired by Berkshire Hathaway in 2006, is the global market leader in commercial news distribution. Thousands of member companies and organizations depend on Business Wire to transmit their full-text press releases, regulatory filings, photos and other multimedia content to journalists, financial professionals, investor services, regulatory authorities and consumers worldwide.