Pioneer kondigt intentieverklaring aan met NGMI Labs Inc.
Pioneer Media Holdings Inc. ('Pioneer' of het 'Bedrijf') is verheugd aan te kondigen dat het een niet-bindende intentieverklaring ('LOI') is aangegaan met NGMI Labs Inc. ('NGMI'), een particuliere onderneming uit British Columbia, om 100% van de uitgegeven en uitstaande aandelen van NGMI te verwerven (de 'Acquisitie').
De voorgestelde overname bevordert de investeringen van Pioneer in 'web3' en bedrijven in de sectoren NFT, NFT-gaming en token-community.
Transactiegegevens
In het kader van de Acquisitie zal Pioneer 100% van de uitstaande aandelen van NGMI verwerven voor een totale vergoeding van 4.000.000 gewone aandelen van Pioneer, die op pro rata basis zullen worden uitgekeerd aan de aandeelhouders van NGMI. Pioneer, NGMI en de aandeelhouders van NGMI hebben onderhandeld op zakelijke en objectieve basis ('at arm's length').
De voltooiing van de Acquisitie is onderworpen aan standaardvoorwaarden, inclusief maar niet beperkt tot de formalisering van de Acquisitie onder een aandelenkoopovereenkomst en de voorafgaande ontvangst van alle vereiste wettelijke goedkeuringen, inclusief de goedkeuring van de Canadian Securities Exchange (de 'CSE'). Pioneer krijgt een exclusiviteitsperiode van 45 dagen om due diligence uit te voeren op NGMI. Gelijktijdig met en als voorwaarde voor de voltooiing van de Acquisitie zal Matthew Shaw, oprichter van NGMI, toetreden tot de Raad van Bestuur van Pioneer.
Over NGMI:
Tokens en gedecentraliseerde technologie bieden krachtige nieuwe bouwstenen die gemeenschappen in staat stellen te kapitaliseren, te besturen en te groeien op manieren die nog nooit eerder mogelijk waren. DAO (Decentralized Autonomous Organization)-tokens en de opkomende tools en platforms die hun activiteiten ondersteunen, vertegenwoordigen de meest boeiende sector van de web3-ruimte, en NGMI heeft de toegang en het talent om te profiteren van de opkomende trend.
"Onze unieke combinatie van praktische operationele ervaring (na het lanceren en laten groeien van toonaangevende DAO's) en ervaring met crypto-kapitaalmarkten, positioneert ons om brede mainstream-ondersteuning en kapitaal te bieden aan het opkomende DAO-ecosysteem," aldus Jess Sloss, mede-oprichter van NGMI.
NGMI is opgericht door Jess Sloss, Gregg Peacock en Matthew Shaw. Elk van deze personen zal zijn diensten en expertise blijven leveren aan Pioneer en NGMI na voltooiing van de Acquisitie, en dhr. Shaw wordt benoemd tot lid van de Raad van Bestuur van Pioneer.
Matt Shaw is actief op het gebied van crypto- en blockchain-investeringen en is de oprichter van DeFi Yield Technologies (onlangs overgenomen door Dispersion Holdings), Protos Asset Management (een vermogensbeheerder voor cryptocurrency) en Blimp Technologies (dba Blimp Homes), een proptech-bedrijf met een crypto-beloningsecosysteem. Dhr. Shaw is ook directeur van Argo Blockchain plc, genoteerd aan zowel de London Stock Exchange als NASDAQ.
Dhr. Sloss heeft uitgebreide ervaring in web 3-projecten, zowel als engelinvesteerder en als de host van de populaire 'Seed Club'-podcast die zich richt op web3- en DAO-ecosystemen, en als spreker op soortgelijke podcasts. Dhr. Sloss is ook de mede-oprichter van Seed Club, een incubator voor token-communities die drie cohorten heeft voltooid.
Dhr. Peacock was begin 2021 mede-oprichter van SquiggleDAO met de visie om een grote web3-collectie NFT-kunst in handen van de gemeenschap op te bouwen. Tegenwoordig heeft SquiggleDAO 600 leden die gezamenlijk $ 25 miljoen aan tier 1 NFT-kunst beheren. Hij werkt sinds 2002 ook met technologiestart-ups en sinds 2015 met blockchain als investeerder, handelaar en voorlichter, en heeft uitgebreide ervaring met het adviseren van beginnende blockchain-startups over productstrategie en crypto-economie.
De voltooiing van de Acquisitie is onderworpen aan tal van voorwaarden zoals hierboven beschreven. Er is geen zekerheid of garantie dat de Acquisitie zal worden voltooid zoals beschreven, of überhaupt zal worden afgerond.
Over Pioneer Media Holdings Inc.
Pioneer is een beleggingsuitgever die actief investeert in en een gediversifieerd portfolio verwerft van beginnende tot middelgrote bedrijven in web3, waaronder NFT's, NFT-gaming en token-communities, samen met investeringen in eSports en mobiel gamen. Het managementteam van Pioneer maakt gebruik van zijn wereldwijde netwerk om beleggers toegang te geven tot beleggingen die normaal gesproken niet beschikbaar zijn voor de gemiddelde particuliere belegger.
Het huidige Pioneer-portfolio omvat investeringen zoals: Leaf Mobile Inc. (TSX: LEAF), een toonaangevende groep gratis te spelen mobiele games; Guild eSports plc (LON: GILD), een wereldwijd eSports-bedrijf met hoofdkantoor in Londen, waarvan de belangrijkste investeerder David Beckham is; Dynasty eSports Pte Ltd, makers van 's werelds toonaangevende white-label Gaming Ecosystem Management-oplossing, die exclusief op B2B-basis samenwerkt met Tier 1-telco's en grote mediaorganisaties; en NFT Investments plc, een in Londen gevestigde investeringsmaatschappij die zich richt op non-fungible tokens ('NFT's').
Pioneer zal zich blijven concentreren op investeringen in web3, waaronder investeringen in bedrijven in de sectoren NFT, NFT-gaming en token-communities.
Pioneer levert kapitaal, ervaring en ondersteuning aan deze opkomende marktleiders en bouwt tegelijkertijd aandeelhouderswaarde op. Aanvullende informatie over Pioneer is beschikbaar op www.sedar.com.
Noch de Canadian Securities Exchange, noch enige markttoezichthouder (zoals die term is gedefinieerd in het beleid van de CSE) aanvaardt verantwoordelijkheid voor de geschiktheid of nauwkeurigheid van dit bericht.
Waarschuwingsverklaringen
Toekomstgerichte verklaringen
Dit persbericht kan 'toekomstgerichte' verklaringen en informatie bevatten met betrekking tot het Bedrijf, de fondsen die moeten worden opgehaald en het gebruik van dergelijke op te halen fondsen die zijn gebaseerd op de overtuigingen van het management van het Bedrijf, evenals veronderstellingen die zijn gemaakt door en informatie die momenteel beschikbaar is voor het management van het Bedrijf. Er is geen garantie dat het Bedrijf in staat zal zijn om de plaatsing te voltooien onder de voorwaarden zoals hierboven uiteengezet, of deze überhaupt zal afronden. Het Bedrijf verbindt zich er niet toe om toekomstgerichte verklaringen of toekomstgerichte informatie bij te werken, behalve zoals vereist door de wet.
De informatie in deze aankondiging wordt door het Bedrijf beschouwd als voorkennis zoals bepaald in de voorschriften inzake marktmisbruik (EU) nr. 596/2014. Na de publicatie van deze aankondiging via een Regulatory Information Service wordt deze voorkennis nu beschouwd als publiek domein.
Deze bekendmaking is officieel geldend in de originele brontaal. Vertalingen zijn slechts als leeshulp bedoeld en moeten worden vergeleken met de tekst in de brontaal, die als enige rechtsgeldig is.
Bekijk het oorspronkelijke bericht op businesswire.com: https://www.businesswire.com/news/home/20211125006187/nl/
Business Wire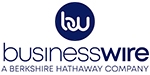 Business Wire, acquired by Berkshire Hathaway in 2006, is the global market leader in commercial news distribution. Thousands of member companies and organizations depend on Business Wire to transmit their full-text press releases, regulatory filings, photos and other multimedia content to journalists, financial professionals, investor services, regulatory authorities and consumers worldwide.