Discovering CentralCharts
Discover the tools offered by CentralCharts, the trading social network to stay informed, share and succeed in the market. Follow tutorials and get informed about the new features and improvements of the site, the technical analysis platform or the artificial intelligence.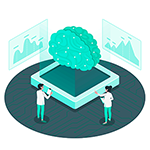 Artificial intelligence dedicated to technical analysis
Londinia is an artificial intelligence that generates technical analyses on the instrument and time unit of your choice. Using more than 150 detection market scanners, over 120 trend or momentum signals, and all historical data, this AI provides relevant technical analysis that is easy to read and understand for all traders. The perfect decision-making tool for financial markets.