Money Management on Forex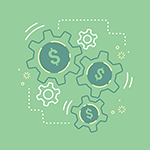 Money management on Forex
is an essential element for success in the markets. This allows you to control risk on all your trades and on your trading account. Managing risk well is not only to avoid razing your account, it is also a way to maximize your Forex trading performance. Often overlooked by novice traders, money management is what makes the difference between a winning and losing trading strategy.
---
Playlist - Money management on Forex :
In this playlist, CentralCharts has gathered the best Youtube videos to learn about good money management and apply this money management in your Forex transactions.